#ICED2014 Recap (Media Highlights)
I just returned from the International Conference on Eating Disorders and was thrilled to connect with like-minded colleagues and learn the latest on eating-disorder and body-image research.
The keynote speaker was Frank Bruni, current Op-Ed columnist and past restaurant critic for the New York Times. Bruni, a heavy child, spoke about his history with dieting, weight stigma, and ultimately, an eating disorder, as he began purging as a way to compensate for eating off-diet foods. Here are a few things Bruni found useful in his recovery:
1) Recognizing that he's not built to be a skinny man and accepting that he has a larger appetite than others
2) Becoming obsessed with food quality rather than quantity – thus his parlay into food criticism
3) Refusing to cast eating behavior as a measure of willpower or character
4) Getting bothered by how much time he was spending on food obsession and how ultimately boring an endeavor this was
Here's a picture of the Academy's social media committee and frequent tweeters, who passed along tons of good content throughout the event: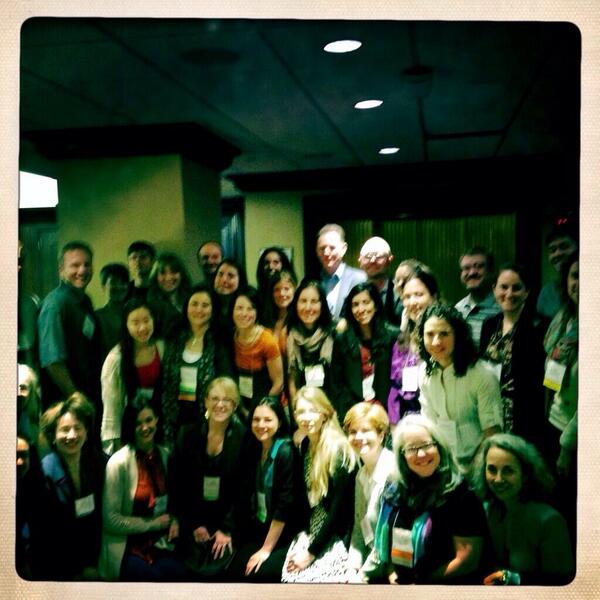 If you want to read ALL our tweets (it's as if you were there!), check out #ICED2014 on Twubs.
My favorite event was a plenary entitled, "Adolescents and the Media: The Good, The Bad, and the Ugly."
So, long story short, the media doesn't cause eating disorders, but the 10-plus hours a day of media that teens are currently consuming certainly don't help. Eating disorders are complicated illnesses with various causal factors. Sociocultural influences can trigger eating disorders in those biologically/genetically susceptible, as well as disordered thought patterns and behaviors in the general population (which, as research shows, can sometimes morph into clinical pathology). We saw several examples of this in our plenary.
Kristina Saffran, a 21-year-old Harvard student wowed a roomful of 1000+ professionals with her inspiring talk about recovery and the birth of her nonprofit. Saffran is co-founder of Project Heal, an organization designed to increase awareness about eating disorders, as well as access to treatment – the foundation offers scholarships to those who don't have the means to finance treatment themselves. Part of Saffran's motivation to create Project Heal occurred out of her use of social media in her own recovery – what she found as she attempted to connect with others recovering online was a host of triggering images, updates, and comments. Saffran wanted to establish a space that was more recovery-oriented for those leaving treatment and needing ongoing, positive support.
Anne Becker, an anthropologist and psychologist who conducted the classic Fiji study, also spoke at this event. The Fiji study demonstrated the significant influence of media access on disordered eating and body-image disturbances. In a three-year period during which Fijian subjects first got access to television, the island nation witnessed rapid decreases in body image measures among teens, and researchers also documented a substantial increase in purging to manage weight among these same girls.
Phillippa Diedrichs, a health psychology researcher, spoke about some increasing efforts toward diversity in modeling/advertising (which still have ways to go), and discussed research around Photo-shopping/retouching on body image. My favorite point from her? We can "become the media" through our informed and relentless use of social media.
So, let's use this as a call to action and just as Saffran has done, and as I've attempted to do with this blog, find a way to use media actively and responsibly. We can counter the hoards of pernicious content available today by offering healthy, positive alternatives. Be active on social media to change the climate. We need your help.